A beautiful early Autumn weekend greeted the IC fleet with light winds forecast on Weymouth Harbour.
On Friday the dedicated (or those needing the most advice and practice) attended a masterclass from local guru Adam Bowers on perfecting starts and the art of gorgeous sailing right from the start gun. Adam's training was both entertaining and thought provoking in getting that last bit of speed out the small but highly efficient rig and spending more time looking outside the boat and enlarging the circles of knowledge.
Saturday brought light winds from the south and with three races each day. The IC fleet was led from start to finish by World and European Champion Robin Wood demonstrating his extraordinary skills of light air boat speed which seem to defy the law of physics.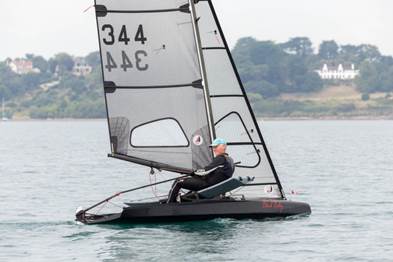 For the other mere mortals there was plenty of very tight racing with places changing regularly within the whole chasing pack.
The IC fleet is a highly competitive fleet with little differences in boat handling, setup and tactics making significant differences. A small mistake will lead to a big deficit very quickly which is impossible to make up such is the speed of the boats.
The AC fleet was showing great boat speed with their huge 23m kites having a significant effect downwind (unsurprisingly). Steve Bowen showed the fleet around the course except for race 2 when he capsized within 100m of the finishing line to let Martyn Osbourne through.
Sunday brought much of the same but with a nice 10-12mph breeze on the first two races allowing the IC's to get much closer to optimum boat speed. Competition was fierce as helms tried do find that little extra to get a nose in front and find the best way up the beat which inevitably seemed to be going right with left handers being largely punished. Downwind places changed regularly with wind making things very interesting closing up the fleet making final placings very close and fought hard right to the bitter end.
Behind Robin, Mike Fenwick was able to show the most consistency to come second overall with Dave Timson in third in the IC fleet and overall.
In the AC fleet, Steve Bowen came in on top.
Final Results, scratch positions
| | | | | | | | | | | | | |
| --- | --- | --- | --- | --- | --- | --- | --- | --- | --- | --- | --- | --- |
| Rank | Fleet | SailNo | HelmName | Club | R1 | R2 | R3 | R4 | R5 | R6 | Total | Nett |
| 1st | IC | 344 | Robin Wood | Llandegfedd | 1 | 1 | 1 | 1 | 1 | (18.0 DNC) | 23 | 5 |
| 2nd | IC | 341 | Mike Fenwick | Castle Cove | 3 | 3 | -3.5 | 2 | 2.5 | 1 | 15 | 11.5 |
| 3rd | IC | 339 | Dave Timson | Llandegfedd | 4 | -10 | 5 | 3 | 7 | 2 | 31 | 21 |
| 4th | IC | 319 | Shaun Anderson | Oxford | -11 | 7.5 | 3.5 | 6 | 4 | 4 | 36 | 25 |
| 5th | IC | 338 | Steve Clarke | Llandegfedd | 6 | -13 | 7 | 5 | 5 | 5 | 41 | 28 |
| 6th | AC | 310 | Steve Bowen | Llandegfedd | 7 | 2 | 9 | 9 | 2.5 | (18.0 DNC) | 47.5 | 29.5 |
| 7th | IC | 343 | Phil Allen | Chichester | 9 | 7.5 | -11 | 10 | 6 | 3 | 46.5 | 35.5 |
| 8th | AC | 288 | Andy Gordon | Stokes Bay | 2 | 5 | 10 | 8 | 13 | (18.0 DNC) | 56 | 38 |
| 9th | IC | 340 | Chris Hampe | | 12 | 6 | 8 | 4 | 10 | (18.0 DNC) | 58 | 40 |
| 10th | IC | 334 | John Ellis | Scaling Dam | 10 | -12 | 6 | 11 | 8 | 6 | 53 | 41 |
| 11th | IC | 327 | Rob Bell | | 8 | 9 | -12 | 12 | 9 | 7 | 57 | 45 |
| 12th | AC | 302 | Martyn Osborne | Llandegfedd | 5 | 4 | 2 | (18.0 DNF) | 18.0 DNC | 18.0 DNC | 65 | 47 |
| 13th | IC | 311 | Perham Harding | Swanage | 13 | 14 | 13 | 7 | -15 | 8 | 70 | 55 |
| 14th | IC | 326 | Hugh De Iongh | Castle Cove | -16 | 11 | 15 | 14 | 12 | 9 | 77 | 61 |
| 15th | OD | 267 | Martin Robb | Castle Cove | 15 | 15 | -16 | 15 | 11 | 11 | 83 | 67 |
| 16th | IC | 336 | Rob Stebbing | Castle Cove | 14 | -16 | 14 | 16 | 16 | 10 | 86 | 70 |
| 17th | IC | 308 | Richard Bowers | Castle Cove | (18.0 DNF) | 17 | 17 | 13 | 14 | 12 | 91 | 73 |