All photos © Steve Clarke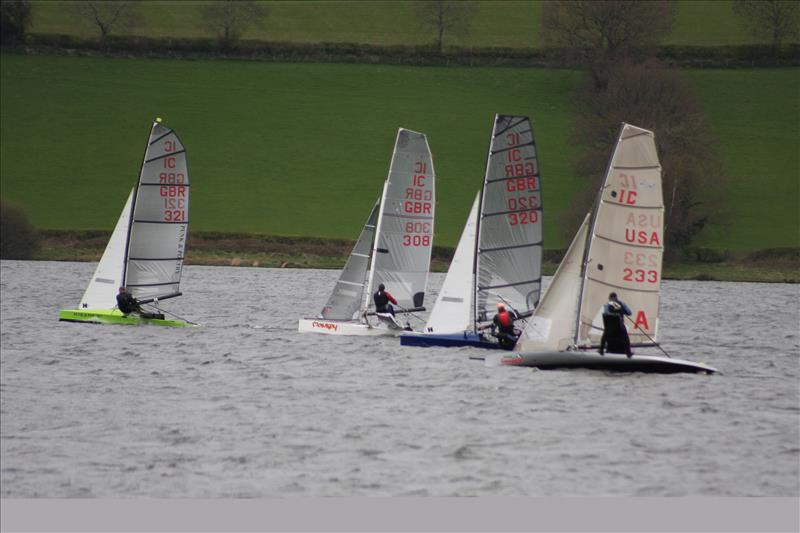 Sunny skies and smooth water met the competitors as they drove across the causeway to wards LLangdegfedd Sailing Club. The vision of short and tee shirt wearing sailors rigging their boats were positive signs of a warm and blue water F3 that were obviously to follow. A gentle breeze blowing the whole length of the lake would ensure excellent windward / leeward racing. Who needs the Barbados Worlds in a 505 when you've got Llangdegfedd Water in an International Canoe?
As the competitors sailed out to the start the locals, possibly aware that Arsenal were to perform a guard of honour for Manchester United later that day, simultaneously inverted their crafts to provide their own guard of honour – centreboards vertical – for the highest placed World's sailors…Chris Hampe and Dave Timpson.But – this wasn't Barbados.This was Llangdegfedd.This was traditionally a very windy and gusty Premier Open Meeting.And Wales didn't disappoint!And it was absolutely freezing!!
Two races were sailed back to back on the Saturday afternoon with Steve Bowen and Chris Hampe showing excellent boat speed and handling in the trying conditions. After two similar races on Sunday morning, the fleet decided enough was enough and settled on 4 races total, no discard.
Well done to Robin Wood, Steve Bowen and Andy Gordon who were in the prizes in the AC fleet; and Chris Hampe, Gareth Caldwell and Rob Bell in the IC fleet.
And a particular mention to the OD and rescue who were kept particularly busy.